Morannon Router & Firewall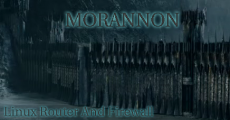 Morannon is a small but powerful Linux-based router and firewall (also running on this site :-). It's written specifically for NCU710 GX1 and GX2 hardware, so it's probably rather uninteresting to broad public.
Features
Minimized DRAM demand by customized kernel configuration, uClibc, and busybox
Can connect to up to 4 providers by serial modem, USB modem or DSL (2nd Ethernet port); connection mode (off/demand/always) and provider are selected by turn switches
Current up/down transfer rates, provider and volume/time limit usage can be shown on LEDs and 7 segement display
Flexible firewall and parameter configuration over a web interface
Integrated NTP server (optional); running ntpd on the router reduces latency and jitter
Optional IPv6 support; two types of tunnels are possible, also simultaneously: 6-in-4 via Freenet6 or 6-to-4.
Optional traffic control module for ADSL traffic shaping
Optional port knocking daemon that can trigger various actions on the firewall machine in a controlled manner
Optional mini print server, forwarding LPD print jobs to an USB printer.
Optional Nagios-compliant status daemon (statd)
Optional status monitor for D-Link DSL360T modem
Coming soon (or later...): control of external devices via IDC digital I/Os
Download
Current version is 051023 (Changelog). You can also browse all available versions here.
As there's only little demand for the sources by current Morannon users ;), and they would take up much space on the web server, I have omitted them from this download page. However, sources are of course available on request!
---
Last modified: Sun Oct 23 13:57:08 2005
Please send questions and comments to roman@hodek.net
Copyright (C) 2004 Roman Hodek